To redeem a voucher you can do this online with our online Voucher Redemption System.
The first thing you need to check is if your voucher reference begins with 'VEN'. If it doesn't then your voucher must be with another company and you will not be able to use it on our website.
If you do have a voucher starting with 'VEN' there here is how to log in and activate the voucher:
HOW TO LOGIN
On the booking form will need to follow these details carefully:
1. Enter the numbers part of your VEN number without the first zero i.e. enter 123456 if you VEN number is VEN0123456
2. Make sure you type in your name exactly how it is printed on the gift voucher (spelling mistakes/ typos and all!)
3. Your email address must be a valid one as this is where your documents will be sent once you make a booking.
4. The date of birth you put must match that of your ID which is likely to get checked on the day.
If you get any system error messages that says that my voucher has been redeemed or is out of date, then you will need to raise a ticket with our technical team. You can do this by clicking the green help icon in the bottom corner.
[screen shot of login form]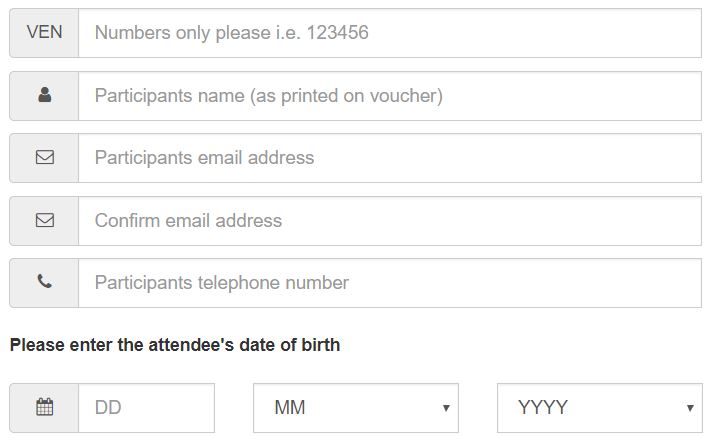 HOW TO REQUEST A DATE
Please note that this system is to activate your voucher and 'request' a date only. We cannot guarantee any date and time choose.
Once you have successfully logged in your voucher will be active and you can follow the prompts to check the availability. Please read those instructions carefully.
If you have a cash voucher then you will need to choose whether you want to book a driving experience, bike track day or car track day. If you choose to book a track day you will be taken to the calendar to pick an event.
If you have or choose to book a driving experience you can view the info and the dates for the experience you have and have the option upgrade or exchange if you find something else you would like to do. We highly recommend having a look at what else is available as you may find an experience with more driving time or more cars for the same value. Or, you may find an alternate location that suits you better.
Once you have decided on an experience you will be taken to the calendar and can pick from either an AM or PM slot (subject to availability). If there are no live dates available you can click a button to request them by email.
AM arrival times may be as early as 7:30am so please bear this in mind and allow for travel!
Once you have successfully requested a date and time we will collect your email address and contact number and send you your final booking confirmation which will include directions to the venue. If we are unable to fulfil your request we will reset your voucher and contact you to arrange another date or time.
It's vital you have received your final booking confirmation before making any travel arrangements in conjunction with the booking.
Don't rely on a verbal agreement or hand-written email that you are booked in, only your booking confirmation document will prove for sure that you are.
Other questions: my voucher isnt working